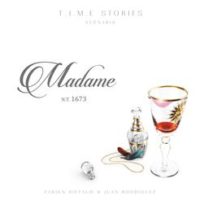 T.I.M.E Stories: Madame
T.I.M.E. Stories, published by Space Cowboys, is a narrative game where each player takes on the role of a temporal agent who lives through a story, as part of their mission. Players start the game in their home base where they receive their mission briefing. The objective is to then complete the mission in as few attempts as possible. Each expansion has players immersed in different environments as they proceed on these missions.
The latest expansion is T.I.M.E. Stories: Madame, which sees players pick up on plot points from earlier missions (expansions) as part of an overall story line dubbed, "The White Cycle". This mission takes place in Versailles, Paris, and the publishers have hinted that the narrative flow sets up a major shift for the game which would take place in "The Blue Cycle" in future. The core game, T.I.M.E. Stories, is required to play this expansion. The T.I.M.E. Stories: Madame expansion is designed by Fabien Riffaud, and Juan Rodriguez, with art by John Mac Cambridge, and Pascal Quidault.
Add a Review for "T.I.M.E Stories: Madame"