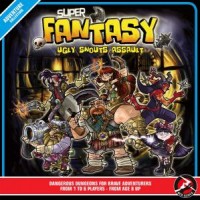 Super Fantasy: Ugly Snouts Assault
Super Fantasy is the first hack'n'slash board game in which up to six players take on the roles of brave and unique heroes. During each game, players embark on tricky and mighty quests into ever-changing dangerous caves and dungeons swarmed with monsters and terrible creatures that try to slaughter them, while heroes try to gain treasures as well as better equipment in order to complete the missions.
Super Fantasy features double-sided modular board pieces for creating countless scenarios combinations, six mighty heroes and three unique and powerful abilities for each hero, throwing players into a fast-paced world in which anything can happen!
Add a Review for "Super Fantasy: Ugly Snouts Assault"