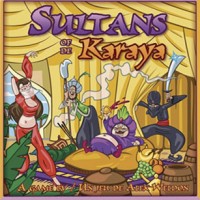 Sultans of Karaya
Far out in the Indian Ocean lies the archipelago of Karaya divided in many tiny countries, each led by a Sultan. It's a good life for the Sultan, with slaves to do his bidding, fabulous wealth and beautiful dancers to keep him entertained. No wonder everyone's lining up to take a shot at stealing the throne!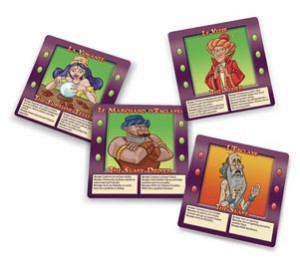 Each player is dealt a card secretly, providing them with a role:
The Rebels (Slaves and Assassins) want to unseat the Sultan.
The Loyalists (Sultan and Guards) want to preserve the status quo.
The Neutral characters (Vizier, Slave Driver, Fortune Teller and Belly Dancer) are conniving to try to end up on the winning side.
You must gather information and use your character's powers wisely to win the round. Allegiances are secret and ever-changing, making for an unpredictable and dynamic game!
Add a Review for "Sultans of Karaya"