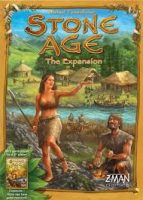 Stone Age: The Expansion
THE DAWN OF STYLE
It took many tedious suns and moons to build your humble village. You toiled endlessly to protect and feed your young. You gathered raw materials to build huts to shelter your families. But times are changing. The people are stringing the teeth of animals into necklaces and crafting rings, bracelets and combs. In Stone Age: The Expansion, humanity develops even further from its humble beginnings as this expansion introduces both components for a fifth player to join the fun and an important new resource: jewelry! With these precious baubles, you can acquire more resources or to trade them to get new buildings for your village. Now that the age of style has arrived, it's time to build a village worth talking about!
A PRECIOUS RESOURCE
The new components in Stone Age: The Expansion incorporate seamlessly into the Stone Age base game. The new board included with the expansion opens a bevy of exciting possibilities for advancing your tribe. Send your people to gather food and jewelry at the hunting grounds, then visit the merchant to trade your jewelry for resources you need to improve your village. The expansion includes fifteen new building tiles, each of which provides its own bonuses and opens up customization options. You can also use jewelry to purchase Civilization cards from the new fifth space, thereby developing your tribe even further.
STONE AGE IS REQUIRED TO ENJOY THIS GAME.
Add a Review for "Stone Age: The Expansion"