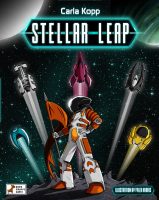 Stellar Leap
Hot off of a successful Kickstarter campaign, Stellar Leap is a space exploration game for 1-5 players with worker placement, variable player powers, & a strategic twist on dice rolling in about 60 min.
Earn prestige by completing missions, discovering new planets, increasing population, and fulfilling your hidden objective. Variable player powers and game-changing events mean that every game is as different as the planets in our galaxy!
Add a Review for "Stellar Leap"