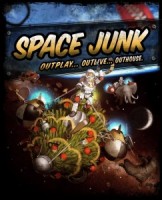 Space Junk
Use all manner of Space Junk to Build, Laugh and Smash your way to victory in this fun easy to learn game. Fun for the whole family!
In Space Junk, players take on the role of a contestant on a futuristic reality tv show in outer space. The world has used space as a garbage dump for too long and now it's time to clean it up and entertain the masses! Orbit the earth seeking out and picking up space junk, both to build a ship with and to recycle! The game is simple, easy to learn and will reduce you to tears (of laughter) as you build the most ridiculous ship imaginable.
You will use your ship to speed around the earth, crash into and attack other players and collect valuable junk to become the most famous contestant! Space Junk plays 2-6 players and plays different every time with the huge variety of cards.
Add a Review for "Space Junk"