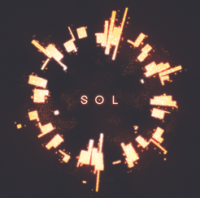 Sol: Last Days of a Star
Sol: Last Days of a Star is a strategic game of solar destruction and salvation for 1–5 players. Play as one of the five worlds orbiting the Sun, diving into the searing plasma to harvest critical energy — energy needed to fuel your escape before the Sun goes supernova. Sol has simple, easy to learn rules, a deep decision space and emergent strategy that unfolds over multiple plays.
Sol is a race against time, carefully balanced with a fresh engine-building mechanic uniquely rooted in mutual benefit and competition. Each game of Sol begins as an open starscape, ripe for emerging interdependent networks and careful planning at every turn: build your energy node so that other players are enticed by its strategic placement; activate an opponent's foundry when they are low on energy so you capture the bonus; plot a multiple activation of other players' transmit towers without ever having to build your own. There are countless approaches to explore in Sol: Last Days of a Star. Sol has very little luck, but the compounding of simple actions keep the game moving quickly. The high degree of player interaction and the array of Instability Effects allow for a surprisingly customizable vibe to each game.
Add a Review for "Sol: Last Days of a Star"