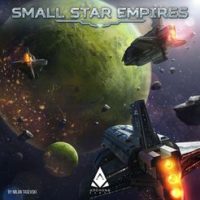 Small Star Empires
Small Star Empires is highly engaging, easy to learn, and quick to play area control game for 2-4 players. In this game, players colonize the galaxy using their ships, which they will move on a modular board, allowing for a different map and different experience each time you play the game.
The rules are simple: Each turn a player has to move one of his ships in a straight line, as many spaces (star systems) as he wants but he cannot go over systems controlled by other players. After his move, he has to place a Colony or Trade Station on that system, thus gaining control over that system for until the end of the game, for which he will get an amount of points. When all of the players placed their Colonies and Trade Stations, the game ends and points are calculated. The player with the most points is the winner! With these extremely simple rules, players will get into the game from the very start and they will immediately immerse in the depths of the tactical and strategic choices they will need to make, in order to score more efficiently at the end of the game.
Add a Review for "Small Star Empires"