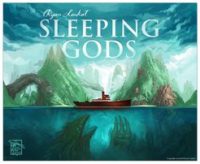 Sleeping Gods
You play as the captain and crew of a steamship in the 1920's exploring the seas and islands for 14 hidden totems of the gods so that you can return home. The game is played on an atlas where each page is a map, and moving off of one edge of a page will move you to another page of the atlas.
You take control of Captain Sofi Odessa and her crew, lost in a strange world aboard their steamship, The Manticore. You will play through sessions that last as long as you want, exploring exotic islands, surviving against the odds, meeting new characters and seeking out the totems of the gods so that you can finally return home.
Because of its campaign nature, you can game for thirty minutes or four hours at a time, taking a break and marking your progress in a log before returning another day. You can also play solo and there's no requirement to have the same pair of people play through the entire campaign. As an atlas game, you'll explore a portion of the world before turning over the next page to see what happens, sailing onwards and inviting new mysteries and adventures to fall before you. As well as this the storybook also brings together passages of text for you to read, decisions for you to make and characters to befriend. Everything you do effects your choices further down the line.
Add a Review for "Sleeping Gods"