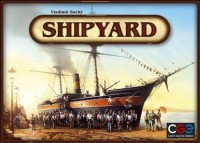 Shipyard
The year is 1870. For centuries, sails have ruled the seas, but now the steam engine is beginning to dominate. Shipbuilders are experimenting with new designs, competing for the prestigious Blue Riband, which honors the fastest ship to cross the Atlantic. Their efforts are watched closely by the world's imperial powers; for the strength of every empire depends on its commercial and military fleet. It is an exciting time to run a shipyard.
Found a company. Build a fleet. Show the world that your ships are the fastest, the safest, and the best.
You take the role of a shipyard owner. Your goal is to build the best ships within the allotted time. As your completed ships leave the yard, they are evaluated on many criteria and your company's stock rises. You decide whether to build fast merchant ships, trans-ocean steamers, or small sailing yachts, while keeping in mind the bonuses you can receive from your secret government contracts.
Add a Review for "Shipyard"