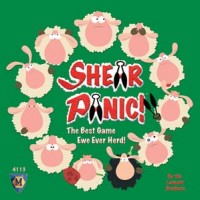 Shear Panic
"The Best Game Ewe Ever Herd!"
Ah, do ewe long for the life of a sheep? Bright summer days filled with games of tag and attempts to flock closer to Roger, the Heartthrob Ram? But, Watch Out! The shearer wants to drag you away from all the fun and games!
In Shear Panic, ewe maneuver your ewes to score points, playing tag, standing close to Roger, or trying to avoid the shearing scissors! Will your brave sheep score the most points, or will it be "Off with the wool" for ewe?
Add a Review for "Shear Panic"