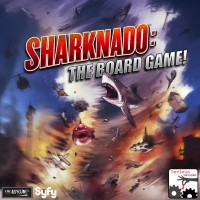 Sharknado: The Board Game!
Sharknado™: The Board Game! is a new take on the co-op adventure genre. Even though it takes place in the Sharknado™ universe, all of the Characters, and most of the scenarios, are completely original. Fans of the films will find familiar weapons, themes, and parallels, while gamers that haven't yet enjoyed the movies have appreciated the strategy and combat system.
Noteworthy features of Sharknado™: The Board Game!
No specific turn order - The game plays in two phases: the Player phase and the Sharknado phase. During the Player phase, you and your team can take actions in whatever order works best for your strategy.
AI-controlled Sharknado - The Sharknado is controlled by its own AI deck. Each turn it will move multiple times, rain sharks from the sky, flood the city, and cause carnage.
Loss of limbs - Just like in the movies, airborne sharks are hungry. Losing arms and legs will slow you down, but don't lose your head or you're dead!
Create your own story - We've included 8 scenarios in the base game, each with two difficulties, but we'll also include tips on creating your own scenarios for infinite replayability.