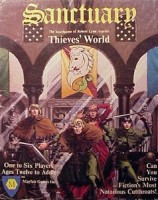 Sanctuary: Thieves World
Can you survive among fiction's most notorious cutthroats! Find out in this challenging game of law and disorder in fantasy's meanest and seediest city based on Robert Asprin's anthologies.
The object of Sanctuary game is to gain silver pieces by committing various successful thefts in the city of Sanctuary. To do so, you must overcome the many hazards to life in the city - getting caught in the act, the Hell Hounds (elite guards), and the multitude of unusual other residents.
Add a Review for "Sanctuary: Thieves World"