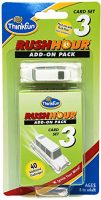 Rush Hour 3
Add-on game pack for the original Rush Hour logic game. Now you can make the fun last even longer!
40 New Challenges with Solutions
Four levels of play
Grand master challenge level
Fun Limo Add-on Vehicle!
Note: This is not a stand-alone game
Add a Review for "Rush Hour 3"