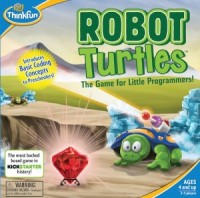 Robot Turtles (Second Edition)
The Game for Little Programmers
Robot Turtles is a board game you play with your favorite 3-8 year old kids. It sneakily teaches the fundamentals of programming.
Robot Turtles launched on Kickstarter, where it became the bestselling board game of all time. Which is pretty darn amazing.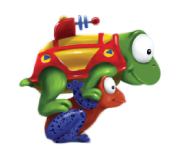 Why It's Fun
Learning a new skill like programming is empowering. Kids love it because they feel in control and get to show you their stuff. You get to watch and be amazed!
Teaches Programming Basics
Through simple commands used to program the Robot Turtle, kids learn what it means to write code, debug and use functions.
Kids Are the Boss
The best part? Kids have all the control acting as programmers to boss around the parent, the computer!
Level Up
As they play, kids unlock new challenges like Ice Walls, Lasers, and the Function Frog. Start with your four year old but expect to play for years to come!
Brings Family Together
Learn, be silly and just have fun — it's a coding game that encourages kids and parents to spend meaningful time together away from the screen.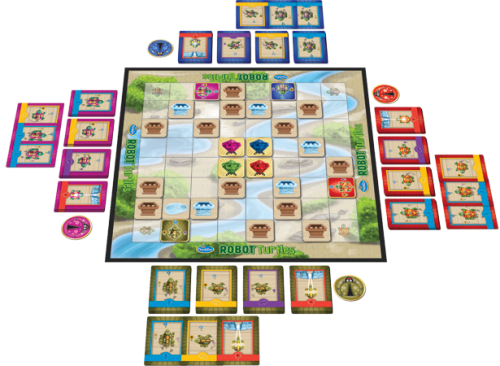 From the Designer
"I'm a software guy who's been programming since my dad taught me how when I was 7. I invented Robot Turtles as I pondered these questions in the shower one morning:

Why are kid games either pure luck (Candyland) or a frustrating exercise in trying to lose on purpose, without the child noticing (Tic-Tac-Toe)?
How old does a child need to be to learn to program? (Do they even need to read?)
What's something cool I can do with my kids this afternoon?
"I got out of the shower, printed out some generic robot clip art, and told my 4-year-old twins that I had a new game for us to play. We started experimenting with the rules. The kids couldn't get enough of it.
"I got so excited about this game that I took a leave of absence from my job at Google and spent the summer working full time to develop it."
Add a Review for "Robot Turtles (Second Edition)"