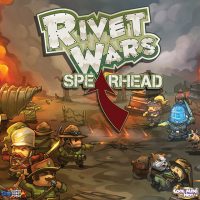 Rivet Wars: Spearhead
Walking tanks, crazy artillery and cool characters battle in the trenches!
Rivet Wars: Spearhead takes the fight to a new level. Now players will be able to fight with fixed turrets, canine units, all new infantry types and heroes trained to defeat the enemies defenses. The Allies can now drill under the enemy lines with the help of Lt. brasseldun while the Blight can now be lead by the powerful Baron Munchen. With all these new units your army will crush anything that gets in its way! Rivet Wars is a miniatures board game from the imagination of Ted Terranova – set on a world that never quite left World War I but with crazy technology. As commander of your forces you spend resources each turn to deploy fresh troops to the front. Send out counter units to wreak havoc on your opponent's carefully laid plans. Deploy infantry, cavalry, artillery and massive walking tanks or call upon your faction's powerful heroes to enhance your force's strength.
Add a Review for "Rivet Wars: Spearhead"