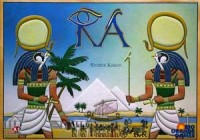 Ra
The game spans 1500 years of Egyptian history in less than an hour!
The players seek to expand their power and fame and there are many ways to accomplish this: Influencing Pharaohs, Building monuments, Farming on the Nile, Paying homage to the Gods, Advancing the technology and culture of the people. Ra is an auction and set collecting game where players may choose to take risks for great rewards or... And all this is for the glory of the Sun God Ra!
Ra is set in ancient Egypt. The players strive for power by collecting tiles that represent various aspects of economic, spiritual, and technological growth. The players acquire the tiles by bidding for them in auctions. The currency for these auctions are tokens given to players by Ra, the sun God. Using these limited tokens, players must decide when to bid and how much to get the tiles they want.
Add a Review for "Ra"