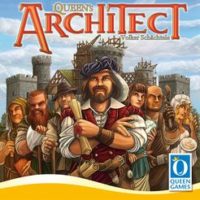 Queen's Architect
Villages, monasteries and towns need your help to construct important buildings. Assume the role of an architect and assemble a competent team of craftsmen. Raise buildings and assist the people with small repairs or farm work. The Queen will reward you with her appreciation and with gold coins.
Gain the privilege of constructing the new royal palace, and you will win the game as the land's most successful architect! In Queen's Architect the goal of the players is to build the Queens palace, thus becoming the most successful architect. But the road is long and first you have to earn the Queen's appreciation. To do this players have to move around the map and construct buildings in villages, monasteries and towns. That is easier said than done, since each location is in need of different craftsmen. The demand tiles show which craftsmen are needed to be able to build. It is the player's task to assemble a competent team of craftsmen to fulfill demands. At the beginning of the game players choose two craftsmen. Each craftsman is a member of one of 6 guilds and has his own set of performance numbers. The performance numbers determine how much appreciation the player gains from the Queen. But only the number currently connected to the hammer symbol on the player's action star counts, when constructing a building. To hire more craftsmen, players can look to the billboard. It shows all craftsmen available for hire. The more experienced a craftsman is, the more expensive is his employment. A hired craftsman is placed on an open spot of a player's action star. The corner of the new tile that was pointing at the hammer icon on the billboard is attached to any free notch of the player's action star.
Add a Review for "Queen's Architect"