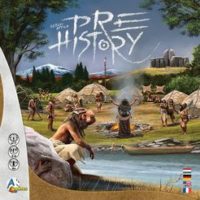 Prehistory
We are running out of food. The area around our campsite doesn't have enough supplies for this many of us. The tribe has no choice, we again have to move on to survive. Now we must travel to discover new areas, look in every nook and cranny for things to eat. We figure, that our best chance is to go our own ways. Which one of us will succeed in finding the richest soil, build a new home, found the strongest tribe?
In this game, the players act as prehistoric tribe from the late stone age, trying to best manage the food and resource via various actions. We come across many situations that prehistoric people would have faced. Gathering, fishing, hunting, even creating paintings on your walls, or maybe performing a ceremony to influence the forces of nature. All this, while searching for a new home, conquering new areas. The player with the biggest progress and most wealth will survive to thrive and win the game.
Add a Review for "Prehistory"