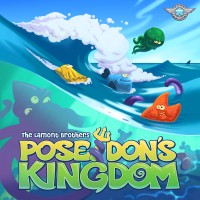 Poseidon's Kingdom

Poseidon has lost his treasured trident, and your friends have disappeared while trying to find it. It turns out they have been captured by evil Hans the Kraken. Suckers! The Kraken plans to make a nice stew out of them. Can you prise open his tentacles, release your friends, and defeat him? Hope so. Oh, it's probably not a good time to mention the shark...
This is a limited 2nd Edition of Poseidon's Kingdom by Fragor Games' which originally had a 2011 limited edition Essen release. It features a wave which crashes dice onto the board, the engaging game play of the highly-praised anthill system (from Antics!) and, most importantly, the fantastic creature models which made Fragor's name in 2005.
The Second Edition introduces a new Dolphin figure to the game.
Add a Review for "Poseidon's Kingdom"