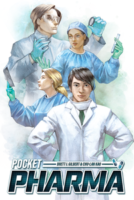 Pocket Pharma
Pocket Pharma - The Big Pharma game, in your pocket!
Designed by Kennerspiel des Jahres nominee: Brett J Gilbert, Pocket Pharma brings the pharmaceutical world to your pocket. Using a unique take on drafting and scoring based based on 3 different metrics on the victory cards Pocket Pharma is a great game for the casual and hobbyist gamer. Take on the role of researchers in rival pharmaceutical laboratories, each working at the frontier of medical science to create new therapies for some of the world's most prevalent diseases. ​ Select molecular fragments, craft new drug formulas, and try to create effective treatments while minimizing side effects. Each successful launch of a new drug can earn profits for your lab, but which player will have earned the most once the race to create the remedies is over?
Add a Review for "Pocket Pharma"