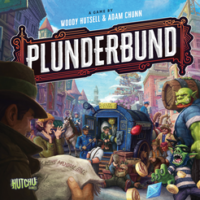 Plunderbund
You lead a guild striving to dominate the market for illegal goods in the Sprawl, a city rich in history and lawlessness.
Recruit and task a mob of agents, racketeers, ringleaders, spymasters, wizards and others to build your reputation by selling your goods and causing chaos for your rivals. Through a light deck building mechanism, you attempt to create the strongest network of agents and the most desirable black market goods. Winners and losers are determined by a fun, yet sophisticated, supply & demand mechanic.
Add a Review for "Plunderbund"