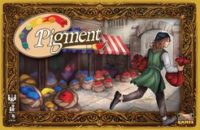 Pigment
You are master painters of the Renaissance… who have run out of paint!
Send your apprentices to the ever-evolving bazaar to gather pigments and fetch various subjects to paint. Complete masterpieces and fill your gallery first to win in this fast, elegant, and portable worker placement game for 1-3 players. Each painting offers a unique Premiere Piece effect when on top of your gallery! Pigment was successfully Kickstarted in Fall 2017, and is now available from Copper Frog Games LLC and select retailers.
Add a Review for "Pigment"