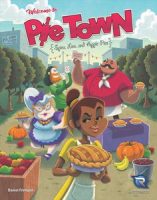 Pie Town
Welcome to Pie Town, a community built on apples and butter. Business here is no cake walk, so manage your operation well and keep your secret recipe secret.
Pie Town is a worker-dice placement game with hidden information. You will need to manage your constantly changing workforce to harvest, bake, and sell pies while deducing other players' secret recipes! Now is your chance to become the best pie shop in town!
"The best euro-game for how simple it is that I think I've played in a long, long time."- Quintin Smith of Sit Down & Shut Up
Add a Review for "Pie Town"