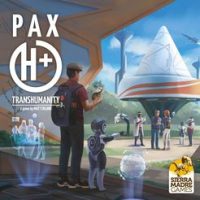 Pax Transhumanity
What if Hollywood and the doomsters are wrong and the future is non-dystopian? No pandemic, zombies, or post-apocalyptic rubble? A more likely future is one in which free-market fortuneers explore the fringes of the achievable, in which scientists and technocrats rewrite the human condition by expanding into new spheres — the developing world, the cloud, and space — in doing so, demolishing the barriers of age, disease, suffering, and physical confinement to this planet. As control over our surroundings expands, technology will become more of a intimate part of who we are — or acquire a mind of its own, incorporated into our transhuman state.
In the game designer Matt Eklund's own words: Pax Transhumanity is a game about idea development in a non-dystopian near future. In traditional Pax-style, the players have access to a marketplace of ideas to compete over.
Unlike other Pax games, there are no hands or tableaux in the traditional sense. The players' goal is to invest in viable ideas and use infrastructure to release them to the world. Once an idea is commercialized it becomes part of the human progress splay, becoming part of human history and making other ideas viable. It will also likely generate growth (new cubes), solve humanitarian problems (VP chits), or break down barriers (place company disks).
Add a Review for "Pax Transhumanity"