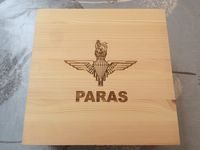 Paras
Paras is a quick, 2-4 player, area control game. It is for ages 8 and over.
Customisation
You will be offered the opportunity to customise the text on the playing board. So if you want specific countries, cities or, maybe, some fictitious theme - the force is with you. This is possible because I make every copy by hand. All you have to do is let me know what you want before I make your game. The game is played in rounds. On your turn you may take 1 action. There are 3 options to choose from; 1) Parachute Deployment. If you have 2 or more units in your aircraft you may roll 2 dice directly onto the playing board to deploy units from your aircraft. See 'Parachute Deployment' below. If there is only one unit in your aircraft you may only roll one die. If there are no units in your aircraft you cannot choose 'Parachute Deployment'. 2) Move your units. There are 4 ways to move; a) move any amount of units one territory orthogonally. b) move any amount of units between two territories in your supply chain. (See Supply Chain). c) move any amount of units from the barracks to your aircraft. d) move a 'stranded' unit into an adjacent territory that you occupy. 3) Ground Attack. You may make one attack. You may attack opponent units with all your units that are in territories which are orthogonally adjacent to your opponent. (If you have units in the same territory as your opponent you can use these too). See 'Ground Attack'.
Add a Review for "Paras"