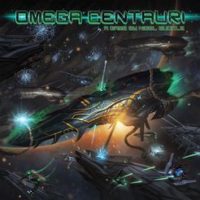 Omega Centauri
Two millennia ago, a loose federation of planets combined to form the Galactic Empire. From that small beginning, the Empire ruthlessly expanded, enslaving or exiling all races that were a threat to their dominion. Recently, the Empire has suffered revolts from conquered races, and on the barren galactic rim, the exiled races gather their forces to strike at the weakened Empire. As the Empire's might and influence wane, a new era is dawning. Which new race will ascend to power?
Will you focus on obtaining technological or cultural superiority, or will you build an invincible armada to crush those who stand in your way? The winner of the game will be the player who has accumulated the most victory points at the end of the final round of play. Omega Centauri offers players many routes to victory, and you can accumulate victory points (VPs) by wresting control of sectors of space from the Empire (or from other players), by improving your infrastructure and planetary defences, or by expanding your cultural influence. The player with the most VPs at the end of the final round is deemed to have ascended and established the new dominant Empire in the galaxy.
Add a Review for "Omega Centauri"