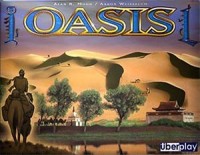 Oasis
In Oasis, designed by Alan Moon, you are the head of a Mongolian family, intent on becoming the most powerful in the land. Use your resources wisely to take control of fertile steppe lands to raise horses, which will bring prestige and honor. Build Ovoos to pour the blessings of luck into your life. Raise camels to build wealth. Control the beautiful oases to improve the quality of life for you and your family.
The player with the most points at the end of the game will be anointed the 'Noble of the Oasis'. It is for 3-5 players and takes about 30 minutes to play.
Add a Review for "Oasis"