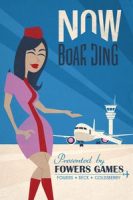 Now Boarding
Airways Airlines needs your help. New passengers are flooding in. It's up to you to get them to their destinations before they get too angry and complain. If we get too many complaints, we'll be shut down.
Now Boarding is a cooperative boardgame for 2-5 Players which plays in 30-60 minutes. Each player has their own airplane they will be using to pickup and deliver passengers. Every round, more passengers show up. Players will need to plan together to make sure everyone gets picked up and taken to their destination on time.
Things get crazy when the timer starts. Players have 30 seconds to take their turns – AT THE SAME TIME. Not only that, but new passengers show up right as the timer starts, throwing a wrench in your plans.
Each player has their own unique route only they can take. You'll need to use these routes frequently to save precious travel time. But doing so requires tricky passenger handoffs and coordination between players.
As players deliver passengers, they earn money that is used to upgrade their planes - allowing you to fly faster and carry more passengers.
Add a Review for "Now Boarding"