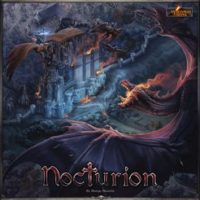 Nocturion
A medieval strategy game from a community-driven, indie development team.
Nocturion is a medieval world that resembles our own - with a darker twist. You, as an inhabitant of Nocturion, will build strongholds and populate them with buildings and armies to defend themselves as you grow your influence over the world. But of course, you are not alone. You will encounter necromancers and their armies, conclaves of ghosts, vampire lairs, haunted towers, undead wizards and, well, dragons. Some of these beings may be hostile, while others can be subjugated into serving as a supernatural army. And this is just the beginning. Surrounding Nocturion are the Elemental Planes. The rulers of these planes are hostile, raging war with one another, which is why they are leaving Nocturion alone... for now. Gameplay Nocturion is a massive, multiplayer strategy game, played in a browser, and aimed at a mature audience. Players will assume the roles of heroes who build their empires by commanding armies, improving their skills, and forging alliances. Your success will be determined by your ability to plan and execute tactical strategies and your attention to detail. At the beginning, you will focus on creating a productive stronghold capable of mining the countryside for valuable resources and producing armies to help you raid the dungeons around your area for crafting materials and hidden treasures. At the same time, using your alchemists, you will try to unlock new technologies that will in turn allow you to build bigger and stronger armies. The game supports any kind of game style you want. If you're interested in casual play, choose PvE (Player vs Environment) mode, which means you can play at your own pace, face only the game's villains, complete missions, and follow the exciting campaign/scenario. If, on the other hand, you feel that you are up for more of a challenge, you can engage in PvP (Player vs Player) combat and try to prove yourself worthy against the other heroes of Nocturion. It is always your own choice!
Add a Review for "Nocturion"