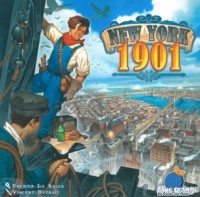 New York 1901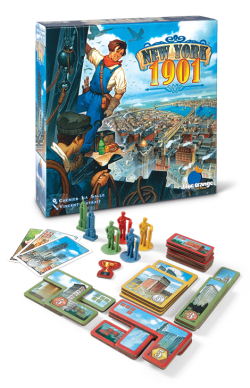 Relive the dawn of modern Manhattan, during the historic years that made New York City what it is today. Compete to build skyscrapers on some of Lower Manhattan's most iconic streets. Raise one of 4 legendary skyscrapers: The Park Row, The Singer, the Metropolitan Life, or the mythical Woolworth and make one of them the crown jewel of your real estate empire!
New York 1901 is a game in which players try to score the most points by constructing, demolishing, and rebuilding skyscrapers on the famous streets of New York City. On your turn, you will have a simple choice: would you rather acquire new land to build on, or knock down your existing buildings to make room for bigger and better ones? You will need to expand your territory and construct your buildings shrewdly if you want to rise to the top of the real estate moguls of New York 1901.
This stimulating strategy board game features amazing illustrations from Vincent Dutrait.
Add a Review for "New York 1901"