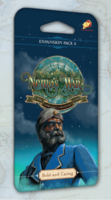 Nemo's War: Bold and Caring Expansion
The second expansion pack for Nemo's War, Bold and Caring, features two new motives for Captain Nemo: Adventure and Humanist! As experienced players know, each motive is like playing a different game!
Answering the call to adventure, each Lull Turn provides 2 Actions and places one of the new Adventure tokens in the just-rolled "doubles" Ocean. When the Nautilus performs a successful Search Action at that Ocean, you reveal and place its Adventure token. You can then go questing for that adventure and try to earn the big rewards it offers. With the Adventure motive, you can also commence play with a new Nautilus Upgrade card: Diving Apparatus which assists you with all Test rolls for which you spend 2 Actions and helps keeps the Adventure Deck stocked with gemstones. The Humanist motive sees Captain Nemo desiring to better the plight of the common people. Potentially starting with the Hospital Machines Upgrade card, it allows the Captain to parley with ships at sea using "Diplomacy Attacks." Although Notoriety gains are a big problem, successful diplomacy allows you three courses of action: Further Diplomatic Relations, Create a Diplomatic Incident, or Gather Support for Your Good Intentions. Incitement cubes become "Goodwill cubes," and the more nations that you parley with, the higher bonus score you can earn!
Add a Review for "Nemo's War: Bold and Caring Expansion"