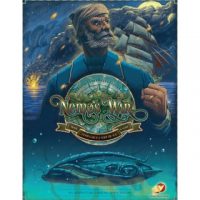 Nemo's War (2nd ed)
Nemo's War is a single-player game of underwater exploration and combat circa 1870. You are Captain Nemo, commander of the Nautilus. You will search the oceans, right vessels of all nations, brave the hazards of the seas, and mysterious treasures, behold and chronicle amazing wonders, and travel around the world in your quest for knowledge and vengeance.
Nemo's War is based on the novel 20,000 Leagues Under the Seas by Jules Verne.
FULLY COOPERATIVE GAMEPLAY VARIANT
This variant allows 2 to 4 players to sail cooperatively and work together for a successful voyage on the Nautilus. In the solo game you are Captain Nemo; in the co-op game, you are always a vital ship's officer but will also alternate taking the lead as the Captain.
NOTE: the .pdf of the rules are under the Game Resources tab on the Nemo's War page.
Add a Review for "Nemo's War (2nd ed)"