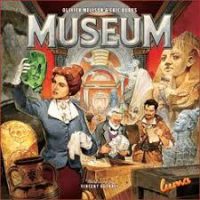 Museum
Step right up Ladies and Gentlemen, and Marvel at the Wonders of the World!
Welcome to Museum! Designed by Olivier Melison and Eric Dubus and illustrated by Vincent Dutrait, Museum is a set collection game where you play as a curator seeking to gain fame and fortune by amassing the most impressive and extensive displays for your galleries.
Set in the 1900's, the game is all about the golden age of museums, when worldwide travel was becoming a reality and demand for exotic displays of objects from faraway lands was high.
Add a Review for "Museum"