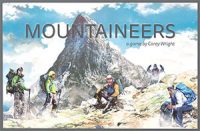 Mountaineers
Over 2 years ago, hiking in the French Alps inspired me to create a board game that not only looked like a real mountain, but also was a different mountain, every time I played! Mountaineers was the result.
At the beginning of the game, choose 1 character, 4 climbing routes, and a starting position on the bottom of the mountain!
The goal of Mountaineers is NOT to get to the top. Shocking, right?! Rather, the goal is to obtain the largest number of climbing points, by the end of the game.
Players should choose climbing routes that work well together, and are feasible for the current mountain setup.