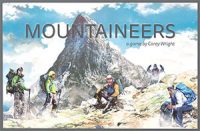 Mountaineers
Mountaineers is a strategic mountain game where players compete against each other to earn climbing points as they maneuver around a giant 3D modular game board!
Players earn climbing points by climbing, completing climbing route cards, and earning extra points through different events and special abilities. Conditions will periodically change on the mountain, and uncharted terrain will eventually fill up, requiring players to formulate climbing strategies, and then adapt these strategies as the game progresses! The game has an "AI" or automated climber mechanics, that allow players to enjoy it as a solo or 2 player game, in addition to the standard 3-6 player version. Game time takes approximately 15 minutes per player.
Add a Review for "Mountaineers"