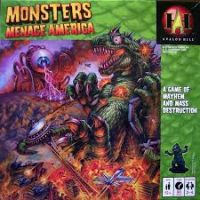 Monsters Menace America
Ah! It's great to be a giant monster.
You can do whatever you want, whenever you want. Who's going to stop you?
Well, that's the rub. You're not the only giant monster. Other monsters are running around smashing the stuff that's yours to smash, eating the things that are yours to eat. It has to stop!
It will stop—soon, you sense. An epic battle looms on the horizon between you and all the other monsters. When the time comes, will you be ready?
The Goal
You control one giant monster and one military branch. Strengthen your monster by mutating, increasing Health, and earning Infamy. Weaken the other monsters by attacking them with your military units and interfering with their vile plans. The game ends with the Monster Challenge, in which all the monsters battle to see who will become the King of the Giant Monsters and win the game.
Monsters Ravage America has been revamped and repackaged as Monsters Menace America. Playing off a campy, B-movie theme, Monsters Menace America finds individual players controlling both the diabolical creatures preying on North American cities and the military units that have been tasked to stop them!
Add a Review for "Monsters Menace America"