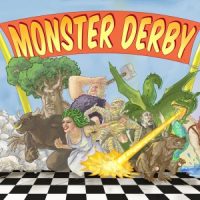 Monster Derby
Monster Derby is a fast and fun road race game where you pick the winners.
Setup 4 of the 8 reversible, double-sided map boards and place 8 of the 24 monsters in the color coded bases in the starting blocks.
Players select a color-coded hidden agenda.
Players take turns rolling dice and moving monsters. Each monster moves once per turn so you might be might be moving a monster that you get low points for. If so, you move it zig-zag through non-native terrain to waste movement. Or better yet, whack that monster with another monster.
Oh, yes, there's combat!
The game ends when 3 monsters have crossed the finish line. You score points for how highly you have those three monsters picked. Your top monster scores 8 if it is one of the finishers. Your bottom monster scores only 1. Maximum possible points is 21 points (for 8,7,6 getting all three of your favorite monsters across the finish line).
There is bluffing!
Use a monster's special power to help or harm another monster!
Add a Review for "Monster Derby"