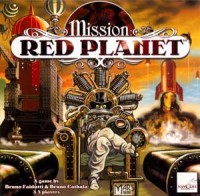 Mission: Red Planet
Are you ready for Mars?
1889. While the masses marvel at the technological wonders of the Paris World Fair, the industrial trusts prepare for their biggest endeavor yet – the conquest of Mars. The fantastic ores of the Red Planet will make men rich beyond imagination, and when this much wealth is at stake, the fighting will be bitter and intense. Beat your enemies to the spaceships, recruit the best men and women for the job, and battle for your piece of the greatest prize history has ever known!
2nd edition released in 2015
Add a Review for "Mission: Red Planet"