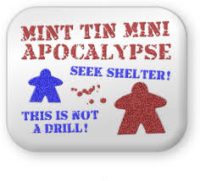 Mint Tin Mini Apocalypse
It's a nice day in Meepleton. You and your friends are enjoying the day without a care in the world . . .
BOOM! Transformers blow, cars crash, people fall to the ground. Phew, you're wobbly but okay.
RAWR! Nearby, a giant monster wreaks havoc!
Hurry! Get to the school's forgotten fallout shelter.
Once two or more of your team members make it inside the shelter, send out a reconnaissance pair to grab a box of supplies. One box is plenty and it doesn't matter who grabs it. But the monster spots you once you do - so you gotta be fast!
The shelter holds a max of 7 and it takes 4 from the same team to pull the door closed.
Do what you must to survive. If you're standing outside, knock down an opponent and make them scramble to their feet again. If you're in the shelter, shove them out and make room for your team.
But wait! It might not be over if you spot a manhole cover. Grab it and knock the monster down or use it to pry open the fallout shelter. If you grab the cover before you secure the box of supplies, the nefarious monster will surely notice you.
Looks like the apocalypse is here!
Add a Review for "Mint Tin Mini Apocalypse"