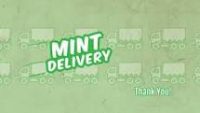 Mint Delivery
Designed by Justin Blake (Area 1851, Mint Works), Mint Delivery is a refreshingly light pick up and deliver game for 2 to 5 players with easy-to-learn rules and exciting strategic gameplay, all in about fifteen minutes.
Its compact size makes it easy to put in your pocket and take it anywhere. Coupling that with its approachable ruleset, Mint Delivery is a great tool for introducing new players to the genre of pick up and deliver.
Add a Review for "Mint Delivery"