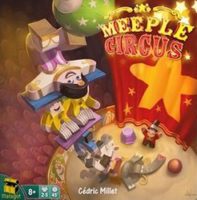 Meeple Circus
You only have one goal: to entertain! You are looking for only one thing: to dazzle the audience. The competition is tough. Become the most amazing circus by proposing incredible acts! Acrobats, horses and many accessories are at your disposal. A good rehearsal and then with your remarkable dexterity, you'll give them the show of their lifetime !
When the circus music starts, all eyes will be on you!
Add a Review for "Meeple Circus"