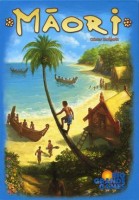 Maori
MAORI: at first, all we see is an endless sea.
But wait, there!!! Land in site! Its an island. An isle with sumptuous palm trees. We must visit this island. There, we can trade what we have for the natives' shells. With shells, we can explore more successfully to gain the islands we seek.
In Maori, the players try to discover their own island worlds. On the islands they find, they can acquire palms and huts of their own. And there is more: boats increase the rate of discovery and shells provide additional options in this simple, yet sophisticated game.
Add a Review for "Maori"