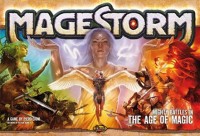 Magestorm
In the world of the Two Suns, the time of the Great Changing is coming! While mighty armies clash, powerful mages with godlike powers unleash the forces of magic on the battlefield, pursuing their own mysterious goals.
Magestorm is a board game that brings the role of magic in a fantasy battle to the highest levels, with players being able to control at the same time one mage and one army.
Add a Review for "Magestorm"