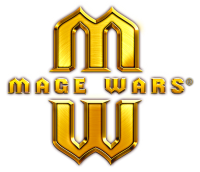 Mage Wars: Academy
From Arcane Wonders: As many of you know, we are hard at work on Mage Wars Academy. Mage Wars Academy will be a huge leap forward for our game, offering a new starting point for players to enter our game's world, as well as more cards and strategies for collectors and existing players to enjoy. Mage Wars Academy will be a 2 player starter set that comes with 2 Mages, 2 Spellbooks and a new gameplay design that is completely "board-less" offering players more portability and faster gameplay (Games average 20-30 minutes) all for roughly half the price of the current Core Set!
One of the biggest design attributes of Academy is that all Academy cards will be "forward-compatible" with the main game of Mage Wars.
Add a Review for "Mage Wars: Academy"