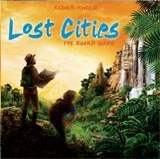 Lost Cities: The Board Game
In Lost Cities: The Board Game, players play cards to move their playing pieces along stone paths. There are cards with 5 different colors/symbols, each corresponding to one path; in addition, each card shows a number (0-10, twice each). In each color, each player can play his cards either ascending or descending. Like Lost Cities, it's better to concentrate on a few paths, since the last spaces grants high points, but ending early gives negative ones.
The player in turn plays one card (out of a hand of 8), or discards one. He moves the corresponding playing piece on the path. Many of the spaces have a token that grants some bonus - either direct points (counted on the scoring track), an extra move on a path, or wish stones that are needed at game end to avoid negative points.
The goal is it to get one's adventurers as far as possible along the paths they travel since the first steps of a path score minus points. Only the later steps on a path score positive points. At the end of the game, the winner is the player who earned the most points. Artifacts, which adventurers can collect along the way, also earn the player's points toward a possible victory. Also, the researcher (the larger figure) is more valuable than the adventurers: during the scoring at the end, the player doubles its points, making it imperative to move it as far along its path as possible.
Add a Review for "Lost Cities: The Board Game"