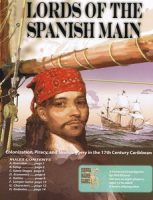 Lords of the Spanish Main
Each player, representing a historical individual in the year 1600, attempts to make his fortune in the Spanish Main.
One player is the Marqués de Guadalcazar, the Spanish governor of Española. He is not averse to dealing in contraband goods with the merchant fleets of the other players.
During each yearly turn, a player bids upon properties and slaves, establishes colonies, and maneuvers his ships for either trade or piracy. He is free to perform almost any negotiation or deal with the other players.
In 1605, the treasure player (usually the Marqués) sails the first treasure flotilla, using either his own fleet, or a contracted foreign one. If the voyage successfully avoids the pirates of the other players, the treasure is divided up as agreed among the collaborators.
The player finishing with the greatest gold and treasure wins.
Add a Review for "Lords of the Spanish Main"