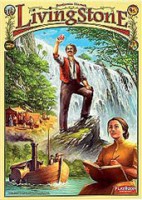 Livingstone
Africa, 1855...The Scottish missionary, Dr. David Livingstone, has been researching African tribes and the flora and fauna of the area.
As part of the Livingstone expedition, strategically set up tents in various regions while collecting gemstones found along the Zambezi River bank. Gain the most victory points and the favor of Queen Victoria to win!
Add a Review for "Livingstone"