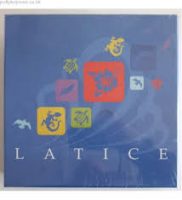 Latice
Latice Standard Edition Board Game
A Tropical Getaway: Everyone's Invited! Escape to the islands with Latice, a new classic strategy board game where simple rules combine into surprisingly deep strategies.
Match tiles by color or shape. Match on two, three, or four sides to earn extra moves. Use wind tiles to shift other tiles on the board and get ahead. Win by being the first player to play all your tiles.
Add a Review for "Latice"