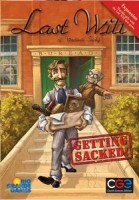 Last Will: Getting Sacked
In Last Will: Getting Sacked, the lawyers have found a hidden clause in your uncle's last will. Spending money faster than all your relatives will not be enough. To inherit your Uncle's fortune, you must also lose your job! After all, your Uncle's heritage can't go to someone who's employed!
You will also have a chance to find yourself a good, demanding wife. A wedding is such a romantic way to spend piles of money in a hurry, right? The expansion has 6 nuptial cards. So get down on one knee and ask the question!
Also, with this expansion, each game can have a different planning board to bring additional variety to the game. When you set up the game boards, you randomly select the 8 plan tiles that will be used in the game.
Add a Review for "Last Will: Getting Sacked"