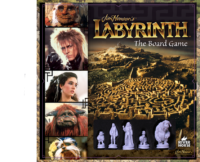 Labyrinth: The Board Game
JIM HENSON'S LABYRINTH THE BOARD GAME
Will Sarah manage to defeat Jareth and his Labyrinth, or will the Goblin King turn little Toby into a goblin babe? You have thirteen hours to find out! Play with up to four friends in this fun family board game based on the classic Labyrinth movie by Jim Henson. Game components 5 highly collectable figurine renditions of the main characters: Jareth the goblin king; Sarah; Hoggle; Ludo; Sir Didymus and Ambrosius
Rules booklet – 16 pages
2'x2′ game board – lavishly illustrated with inspiring new artwork featuring all the legendary places from the movie, including the Obliette, the Bog of eternal stench, the Goblin City and Jareth's Castle.
32 Labyrinth cards
Over 30 game tokens
6 polyhedral dice (D4,D6,D8,D10,D12,D20)
6 Reference cards
4 character sheets, 4 ability cards & 4 weakness cards.
4 card stand ups: Humongous, Goblin Infantry, Goblin Cavalry & Goblin Artillery.
Goblin clock & clock hand.
Available from our online store, and your friendly local game store!
Add a Review for "Labyrinth: The Board Game"